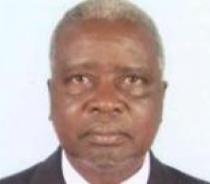 Prof. Simiyu Wandibba
      (1991-1998)
Prof. Simiyu Wandibba is Professor of Anthropology and a teacher by profession. He was born in what is now Bungoma County, Western Kenya, in 1945. He started his early education at Sikusi Primary School where he sat for the Competitive Entrance Examination (CEE) in 1958. After this he went to Nalondo Intermediate School where he sat for the Kenya Preliminary Examination (KPE) and then proceeded to Kibabii Examination for his "O" Level education. He then proceeded to Kenyatta College (now Kenyatta University) for his "A" Level education. After Kenyatta College he taught briefly at Chwele Harambee Secondary School (now Namwela Secondary School) in his home county before joining the University of Nairobi where he pursued studies leading to a BA in History and Education. He then taught at Khasoko Secondary School in his home county for one year before rejoining the University of Nairobi as a pioneer student in the MA in Archaeology programme, on a University scholarship. After successful completion of this programme, he was awarded a scholarship by the Foundation for Research into the Origin of Man (FROM) to pursue studies leading to PhD at the University of Southampton in the UK, where he set a record in the department by completing the programme in three academic years. His field of study was ceramic petrology, which was at the time a new specialization in archaeology.
Prof. Wandibba has published widely in peer reviewed journals either singly or jointly with colleagues. He also has book chapters in several conference proceedings and a number of books to his credit. His books include: Masinde Muliro: A biography; JM Kariuki: A biography; Kenyan pots and potters (Edited with Jane Barbour); Technological change and rural Third World women: An impact study in Machakos District, Eastern Kenya (With Nurid Bird-David, Winnie Karugu, Wilhemina Oduol); and The past and the present in the present: Ceramic ethnoarhaeology in Kenya (An Inaugural Lecture, University of Nairobi). In addition, he has authored the following consultancy reports: Collection Management and Conservation Policy (For the National Museums of Kenya); Report on the Baseline Study of the Mount Suswa Maasai (For Trust for African Rock Art [TARA]; Training Manual on Gender-Based Violence and HIV/AIDS (For Religions for Peace, New York); and A Study on Sexuality Education in Kenya from a Socio-Cultural Perspective (For UNESCO Nairobi Office).
Prof. Wandibba has acted as External Examiner for the Department of History and Archaeology at the University of Dar es Salaam, the Department of Anthropology and Human Ecology at Moi University, Department of Languages at Makerere Univesity, and the Department of Gender and Development Studies at Kenyatta University. He is currently External Examiner for the Department of Sociology and Anthropology at Maseno University and the Department of Gender and Development Studies at Ergerton University.
In terms of supervision, Prof. Wandibba has successfully supervised numerous MA students and 14 PhD students. He has also co-supervised several PhD external students, among them a former  UNISA student and another student  from Jomo Kenyatta University of Agriculture and Technology.
Prof. Wandibba has been a Visiting Professor at the University of Illinois at Urbana-Champaign, SUNY at Stony Brook and the Field Museum in Chicago, all in the US, and Kyoto University in Japan.
Prof. Wandibba is a member of Nature Kenya, the Historical Association of Kenya, and the British Institute in Eastern Africa. He is also a member of the Fulbright Alumni in Kenya.
Finally, Prof. Wandibba's teaching and research interests are: Research methods in the social sciences; Philosophical and historical foundations of anthropology; Heritage management; Ethnoarchaeology, Applied anthropology; Gender and development; Ceramic ethnoarchaeology; and Cultural anthropology.
Contacts
E-mail: swandibba@yahoo.com
Cell phones: +254-722552391 and +254- 735098167