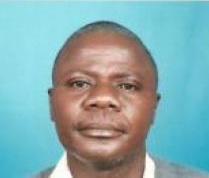 Dr. Stevie Nangendo, a senior lecturer at the Department of Anthropology, Gender and African Studies passed away on 24/10/2021
Dr. Stevie Nangendo graduated from University of Nairobi, Dept of History in 1984 with a Bachelor of Arts degree. He furthered his studies in Byrn Mawr College USA and graduated with a Master of Arts and PhD in 1987 and 1994 respectively. 
He joined UON as a Junior Research Fellow in March 1991 where he worked diligently and rose to the position of a Research Fellow in October 1993 on probationary terms and later confirmed on permanent and pensionable terms in September 1996.
Dr. Stevie Nangendo was an exemplenary scholar and this made him to be nominated for various awards including Rockefeller African Dissertation Internship Award in 1990 and Common Wealth Fellowships Tenable in UK 1999 among others.
He had over 15 publications and research papers; which enabled him to be awarded various grants. He also supervised a lot of Theses/Dissertations for both Undergraduate and Postgraduate Students.
Dr. Stevie Nangendo was buried on 06/11/2021.